Neighborhood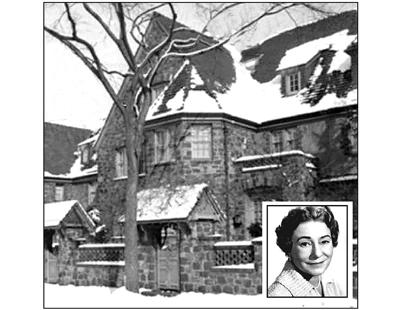 Shoe salesman Charles Ritter married Lucy Hale in Brooklyn on April 25, 1900.
On Valentine's Day 1902, they were blessed with a baby girl they named Thelma. She had the acting bug early in life, and married fellow actor Joseph Moran on April 21, 1927.
Thelma worked in radio but Joseph left the profession to become an ad man for Young and Rubicam. He eventually became a top executive at the firm.
In 1937, they purchased a home at 65 Greenway Terrace in Forest Hills Gardens. Ritter's big break came in 1947 in "The Miracle on 34th Street" as a Christmas shopper. Her husband became her agent.
A character actress in Hollywood's Golden Age, Ritter's no-nonsense delivery with charm in her thick New York accent earned her a record six nominations for Best Supporting Actress at the Academy Awards. Ritter's nominations ranged from 1950's "All About Eve" to 1962's "Birdman of Alcatraz," though she never won the Oscar.
On Feb. 4, 1969, she died of a heart attack only 10 days shy of her 67th birthday. Her husband lived on until 1974, passing at age 73. Their house last sold in 2005 for $1.57 million. In today's marketplace it has appreciated, and is valued at $2.5 million.
Courtesy of : QueensChronicle.com